We're no longer updating this website but we are still out in the fields and a lot of what you'll read here holds true... You'll find Weirdigans behind the scenes at a wide range of festivals and occasionally you'll still find us serving the 'best chai on site'!

If you're looking for festival workers, co-ordinators, riggers, performers, recyclers, renewable power providers etc etc... we may be able to help. contact us.

Check out The Green Gathering and Hebden Bridge Hostel for recent projects.


Cafe... Our organic vegetarian snacks and sweets are all freshly prepared on site, with fairtrade or local ingredients where possible. Hot drinks are served in real mugs, and our chai is "liquid heaven!".

"An oasis of carpet in the muddy desert...

The most chilled vibe in the festival is here."

a


Venue

...

Weirdigans inhabits a cluster of green, recycled-canvas, fire-resistant tents.

We create safe and cosy spaces with colourful rugs; spaces for relaxing, chatting, meeting new friends, reading, feeding, doing the crossword or grabbing a quick doze.

We also host music sessions, exhibitions, workshops, dancing and political debates.
c

"A lovely space that lights the nights and brightens the days."

Seeking crew to help behind the scenes at The Green Gathering: Interested?

x


Energy...

Lit by extremely energy-efficient, cutting edge LED lighting - custom-designed by Dave Weirdigan and powered by our own solar panels - Weirdigans is a beautiful and functional showcase for sustainable technology. At night we're a festival landmark, glowing and twinkling with LED faerie lights.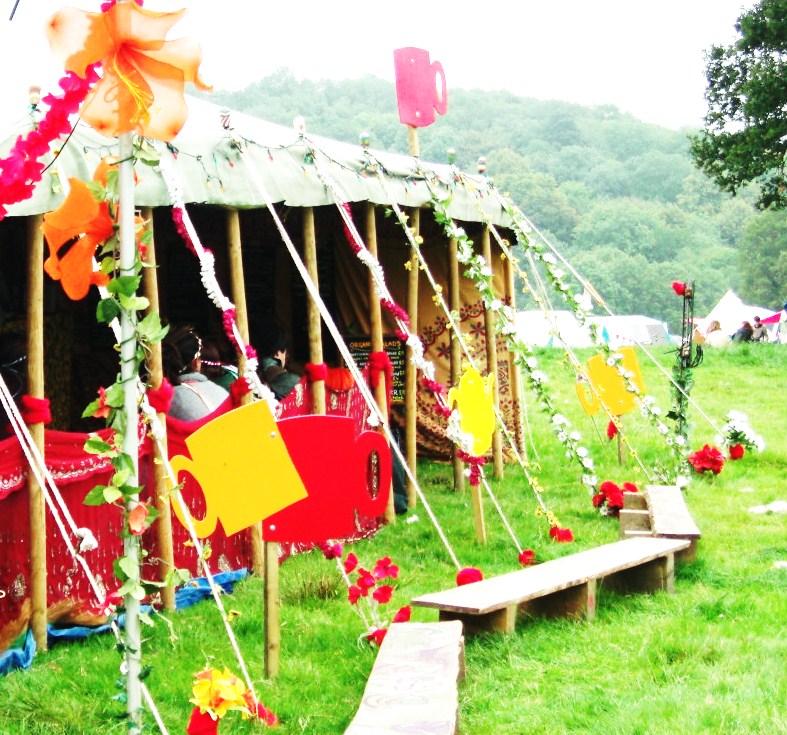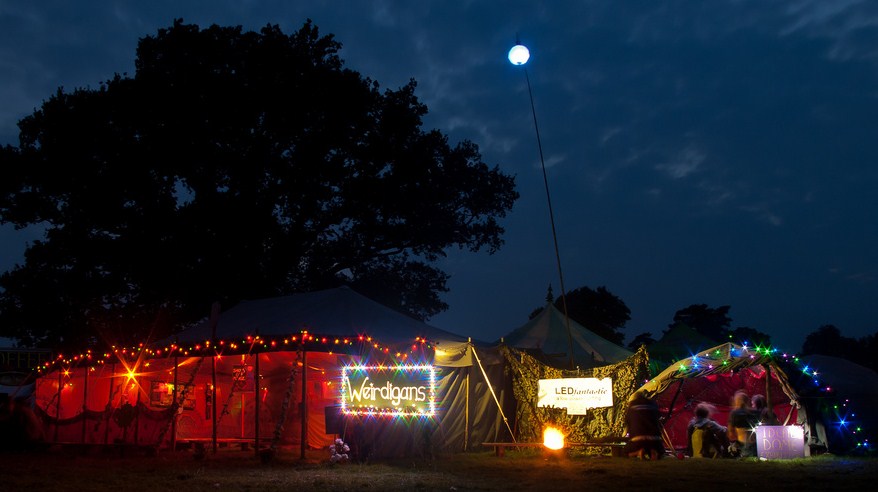 Music...
In the evenings acoustic musicians gather to practice and entertain. Folky sessions are interspersed with diverse and feisty performances; it's all totally unplugged and spontaneous.
Later, if the mood is right, we play happy/funky/soulful tunes on our teeny-weeny eco sound-system.
LEDisco
is an extension of this: solar-powered; no throbbing bass; no angry neighbours; dancing essential.
c
"Weirdigans is the best venue on site... i
t's more fun in here than at any of the stages!"
Education... Skill-shares take place when we bring along our Ideal Dome Exhibition.
This gives us more chance to showcase and share our knowledge of:
low-energy LED lighting and solar technology; 12-volt electrics; geodesic domes; and co-operatives.
c
"I want to do something like this when I grow up." "We're taking away so much, mainly Enlightenment..."

Ethics... Weirdigans is a non-profit-making (ad)venture. We do what we do because we enjoy being part of the festival fabric and are inspired by festival-goers' appreciation. We aim to provide a fantastic venue and service while treading as lightly on the earth as we can. Our ethical policy.

"Weirdigans is the festival teddy-bear: friendly, comforting, grounding and totally accepting. Thankyou."
The Crew... includes a qualified teacher; Greenpeace & other activists; an LED expert; a medical herbalist; artists, performers, musicians, cooks, therapists, environmentalists, djs, students, travellers and people of all ages who've stepped out of the mainstream to pursue a more ethical, egalitarian and creative way of life. Gallery
Background... Weirdigans was created in 2004 since when it has grown organically, encompassing the things we're passionate about and responding to festival-goers' needs, interests and requests. Blog
Practicalities... the whole caboodle including solar panels+vans+guy ropes takes up approx 60'x60'/18mx 18m.
We can bring less tat and tentage and so create a smaller venue if space is at a premium.
We're fully certificated. Health & Safety and Environmental Health inspectors love our attention to detail.
Mama Weirdigan's
(aka
Hebden Bridge Hostel
):
When we're not at festivals you can often find us playing host at Mama's; providing quirky, affordable accommodation for travellers, walkers, backpackers and Weirdigan regulars in this unique South Pennine town
.

Hazel Hedge:
"Ready for some real change"; aka Em Weirdigan on an occasional eco-political slant/rant.
The Green Gathering:
We've been going to this gathering for years, first as punters then as stewards, healers, first-aiders, speakers, traders... now we help organise the Gathering.
Maybe see you there...
Return to Top of Page
Any problems with this website - broken or out-of-date links etc - please let the web-elf know: elf@weirdigans.co.uk
Site hosted by Green ISP/Green WebHost